ePath
EPATH macro-imaging solution enables pathologists to perform photo, video, and sound recording of a grossing procedure. EPATH can be integrated with the Histoscan 2.0 digital pathology platform and various LIS.

EPATH fully supports pathologists at the stage of macroscopic examination of surgical biopsy and autopsy material during the grossing procedure. The system includes a patented photo-video recording module with the function of automatic laser calibration that enables pathologists to capture photos and videos, to complete morphometric analysis with increased accuracy.

Mechanical installation can be done at any gross station regardless of its manufacturer.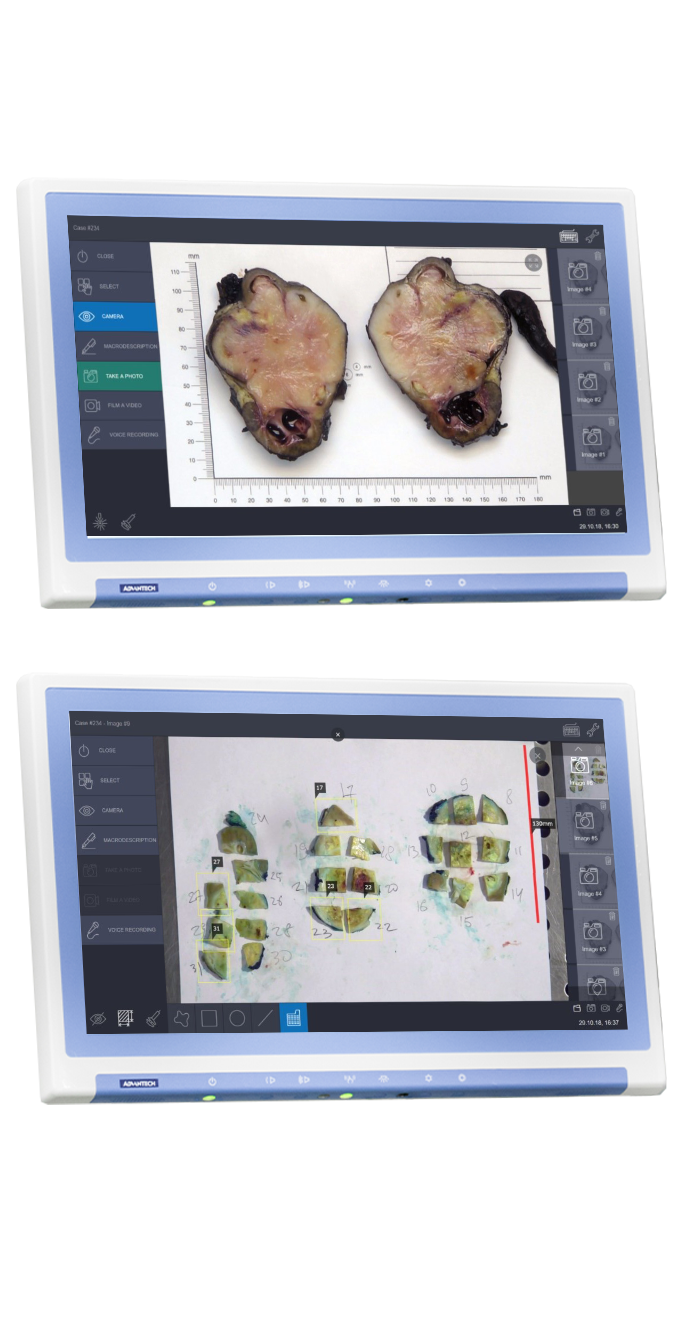 High quality photo and video capture (Full HD). System control with the use of the foot pedals 

Audio recordings for the pathologist's comments. Simultaneous photo and video recording 

Manual white balance settings for different lighting conditions in the laboratory
Real time video streaming of the grossing process to remote workstations
to control the process of capture and description in real time and support educational processes 

Remote access from any pathologist's workstation
Tools for morphometric analysis: graphic objects on images, such as morphometric figures, linear dimensions, areas of objects, text annotations, histological cassettes
Automatic calibration of the laser rangefinder to ensure measurement accuracy for morphometric analysis

Integration with:

LIS (import of patient case data by referral barcode, the ability to open a case in the EPATH interface from the LIS)
Local computer networks of medical organizations to support data export 
Installation on any grossing station

High quality photo and video data collection with the use of a professional
4K camera

for all the needs of daily work, preparation of publications, presentations, training materials
Auto white balance ensures that colors appear correctly in images under different lighting conditions in the laboratory and when using different gross boards of different colors

Color correction: brightness, contrast, saturation of images. The function allows to get the maximum visual effect from the image for the most demanding specialist

Integration with:


LIS

(for integration into the biopsy material tracking system)

DICOM PACS

(Histoscan 2.0 - for storage, view and distribution all types of patient images in one system to ensure the most complete and accurate diagnosis)

We implement a variety of configurations to fit the individual requirements of the workflow of the histological examination

Reverse tracking of specimen slides to compare the image of the slide with its localization on the macro image

Mobile solution update for use in mortuary dissecting rooms and where ePath is not limited to a single gross station